Welcome to Our Practice
Dentist in Lafayette, LA - Bendel Family Dentistry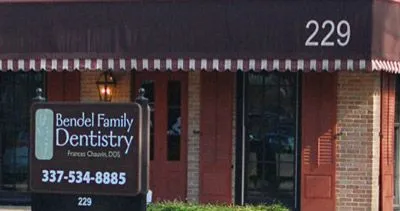 At Bendel Family Dentistry our philosophy is to provide quality dental treatment while addressing the concerns and expectations of each person. With 15 years of experience, Dr. Frances Chauvin wants you to be confident that your smile achieves your goals for comfort, function and appearance. Dr. Chauvin treats both children as well as adults in a welcoming environment.
We also understand that choosing a dentist in Lafayette is an important decision. Dr. Chauvin is sure to take time to listen to your concerns and offer treatment options that best fit your goals as well as your budget. The health of your teeth and mouth will be examined and a treatment plan will be made that works for you. After all, your smile is your greatest asset and says a lot about your overall health. From the moment you walk in the door, you'll be welcomed by a caring staff in a relaxed, stress-free environment where the whole family can feel at ease.
Bendel Family Dentistry, the office of Dr. Frances Chauvin offers a full range of general & cosmetic dental treatments at our office to help you achieve your perfect smile, such as teeth whitening , crowns , and preventive care . We utilize the latest in dental technology that includes digital xrays and intra oral photos. We take the time to explain what is recommended and ways to improve your overall dental health. Appointment times are honored, and there is little to no wait for routine visits! We even offer convenient Friday appointments.
We accept most insurance policies and are in network with many plans. This means that there is usually little to no out of pocket expenses on your first visit if using dental insurance. We work hard to help you understand the recommended treatment as well as understand your out of pocket expenses. Call our office and we will be happy to assist you in determining if you are covered for services with dental insurance.
To learn more about our comprehensive services, take a few moments to look over the informative pages on our website. For additional information, you can always contact our office by calling or stopping in.
Relax with confidence at Bendel Family Dentistry. We're your neighbors, and we're here to help you maximize the health of your smile.
Check out our reviews on